Born: 08- June of 2003
Current Team: Panathinaikos B.C.
Previous Teams: Panionios B.C.
Position: PG/SG
Height: 1.91m – 6'3"
Wingspan: 1.93m – 6'3.9"
Standing Reach: 7'10.4" (240cm)
Dominant Hand: Right
Click from Euroleague Basketball Adidas Next Generation Tournament: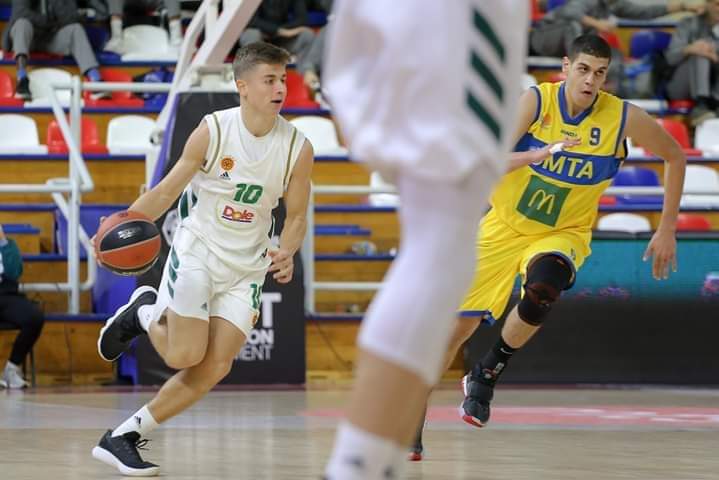 Scouting Report:
Dominant right handed point guard (6'3"), with  good size for his position. Solid length. Elite feel for the game. Nice build, with long arms and wide shoulders that look they can fill up well.  Has good level of athleticism.  Fluid athlete. Versatile, can play in either guard position thanks to his size and length.  Has a very high basketball I.Q. Experienced for his age, has been playing a lot of minutes for one of the best U18 teams in Greece , Panathinaikos. Sigalas has Euroleague ANGT experience too. Can change speeds and directions at a very high level. Can create his own shot. Has good touch around the basket.  Already has a great pull up game and a constantly improving step back shot, with his range going all the way out to the 3-point line. Has improved as a shooter in Spot Up situations. Good ball handler, with a few hesitation moves that help him create his shot. Has excellent body control while driving to the basket. Likes to finish plays hard when he goes to the basket and even dunk when he has space. Has already some nice counter moves when he drives to the basket and can't get all the way to the basket. At his best in transition, he can be a one man fast break.  Excellent passer with great court vision.  Creative passer, has the ability to find the open teammate in any situation.  A Pick and Roll maestro. He makes good reads and most of the time knows when and where to pass the ball. Very good in drive and kicks situations. If he has a good Pick and Roll big with him can make a lot of damage.  Good on ball defender, always focused and super aggressive. Sigalas can disturb his opponents with his size and length. Good team defender, knows the basic concepts of team defense. Has quick hands that help him make a lot of steals. Dependable defender in Pick and Roll situations thanks to his size, length and basketball I.Q.
One of the most  complete, well-rounded guards in Europe at his age. Good size, advanced passing instincts, body-controlled finishes, a sharp pull-up game and superb defensive awareness in a complete package.