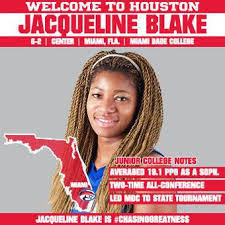 Height: 188cm/ 6'2"    Nationality: USA  College: University of Houston     (NCAA)
Born: 29/06/1995,  Miami Florida.
A physical mismatch in almost every sense. Blake's size, power, length and reflexes give hers the ability to do things even when she's not in position to do them . A high-level shooter. A great athlete , she's extremely nimble and dexterous for her size. Her great hands and soft touch, along with her  huge wingspan, allow her to finish easily around the rim .Her feet are very quick for a player with her weight allowing her to react to plays very well . Has a diverse skill set offensively, to go along with great footwork in the paint that makes her much more than just a big body . Extremely adept at finishing after contact. Feels she can score almost every time she gets the ball in the post. She can create for herself with a variety of offensive moves whether its facing up or with her back to the basket . Uses her strength well to overpower opponents and create space to score . She is capable of knocking down mid-range jumpers and with her huge wingspan can shoot it over just about anyone. Defensively she can block shots from the weak side as well as on the ball due to her length, and dominate the boards at any level, while eating up more space than anyone on the court. She's a defensive presence even if she just stands there with her hands up protecting the rim . Blake shows remarkable passing ability and vision for a C. Also can handle the ball very well, even in the open court when called upon. Surprising ball skills for a Center.
2016-17 Stats (University of Houston, starting five) : 7.8ppg, 4.2 rpg , FGP 41.5% ,  3PT 33.3% , FT 80.6%
2017-18 Stats( Ase Amal Sportive, Morocco, starting five) : 22ppg, 7.5 rpg, FGP 44.3% , 3PT  38%,  FT 78.2 %
2018-19 Stats (Iraklis Thessaloniki, Greece, starting five): 15.9ppg, 7.6 rpg, FGP 43.9% , 3PT 40.9%, FT 91.9% 
2020-2021 (Helios Switzerland, starting five):
Jackie Blake presentation on her coach's words
Jackie Blake short interview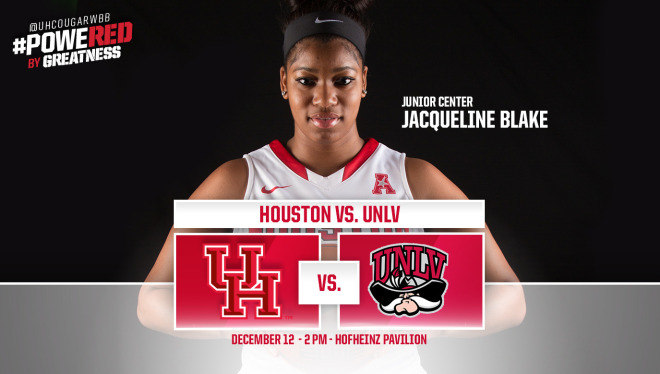 FULL GAME ( Greece – 2019)
#2 BLUE
39 miminutes – 25 points – 24 Ranking –  5/8 2pts –  4/7 3pts –  3/4 FT –  10 Rebounds –  1 steal