Born : January-22- 1993
Nationality: Mexican/USA (The best Mexican Basketball Player & One of the best Latin Players)
Position : Forward
Team : Kibirkstis Vilnius (Lithuanian Champions) -2020/21
College : Charleston (2016)
Countries she played: USA, Australia, Finland, Greece, Lithuania, Spain, Mexico
Career/Awards:
* Graduated from Charleston(NCAA) with 10.6 ppg & 5.8 rpg
– 41.9% 3pts – 78.8% FT
*14.6 ppg & 10.1 rpg in Finland
– 4th blocker of the League with 1.2 bpg
-3rd in the League in 3pts percentage with 39.6%
* 12.6 ppg & 8.5 rpg in Australia
– 50% 3pts – 84.6% FT
* 10.2 ppg & 7.3 rpg
16.0 ppg & 8.5 rpg in her 2 seasons in Greece with 41.% 3pts
• 5th Scorer of AmeriCup with National Team of Mexico  averaging 13.5 ppg
• 3rd Scorer of Centrobasket with National Team of Mexico  averaging 17.0 ppg
• 1st blocker of Centrobasket with National Team of Mexico  averaging 2.4 bpg.
• 1st in 3pts percentage of Centrobasket with National Team of Mexico with 66.7%
• 3rd Rebounder of FIBA AmeriCup with National Team of Mexico averaging 9.5 rpg.
• 2nd Blocker of FIBA AmeriCup with National Team of Mexico averaging 1.5 bpg
• 1st in 3pts percentage of Centrobasket with National Team of Mexico with 50%
Player of the Month October in Lithuania (2020)
Team of the Month (February) in Lithuania (2021)
Lithuania Cup Champion (2021)
EWBL Final- 8 (2021)
Lithuania League Champion (Moteru Lyga) – 2021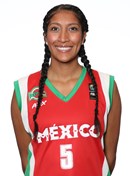 Outlook: A 6'2" forward with  great potential. Actually the potential has already become a reality both in International Competitions with National Team of Mexico, as she is the Leader of Mexico since 2017 and in Club Competitions, as she was the best Forward in good markets like Finland and Greece. A good frame . Yet she shows good balance, mobility and also a very nice wingspan . She's got pretty good hands and a soft shooting touch, offering good reliability from beyond the arch up to the foul line. Shot selection is really excellent . She's also willing to take the big shots to help her team win games. One of the quickest shooters in International Basketball,  her release and rhythm are good and she can create shots off the dribble when necessary. Able to score from the outside, able to penetrate and also a skilled low post player with a variety of moves . She handles the ball well with both hands for a player of her size, and often helps to dribble the ball up court when the guard is being overplayed. Offensively Luna-Castro is tremendously versatile. Even if she's missing better strength and athleticism, a good first step and very controlled drives gets her to draw many fouls. Adding to that a very high basketball IQ, good court awareness and anticipation, which allows her to make very quick decisions once she receives the ball. Spin moves (including over baseline foot), left and right up and unders and jump hooks, turn around jumpers, 45 degrees bank shots and shotfakes all form in a natural part of her repertoire. And she's a reliable finisher inside. Apart from scoring herself, she contributes in the functioning of her team by making the ball move around on the perimeter. She also knows how to post up, seal off her position and maintain it. Being a good passer with an even better court vision enables her to find her teammates from the low post or out of dribble when driving towards the basket. In offensive rebounding she continuously tries to find a good position, often succeeding follow ups or at least getting touches to obtain a new possession. Defending pick and roll isn't an issue either, considering her physical assets to hedge and recuperate as required. At this point defensively she can be matched up with both small , power forwards and centers. Not a great shotblocker in the way of a top leaper who goes for each shot, nonetheless she manages to block a fair share of them due to very good help side positioning, timing and awareness. Overall, a top-class Forward who is a deadly threat from the perimeter(42% 3pts in Greece -2019 )  and possesses the ability to post-up very effectively, a focused defender and a good personality to add in any team's locker room. 
2019 Highlights – Greece
Buzzer Beater in Greece:
College Highlights:
FULL GAMES: 
vs Iraklis : 24 points – 9/11 2pts – 2/6 3pts – 12 rebounds
Mexico vs Paraguay – FIBA AmeriCup
25 points – 6/14 2pts – 2/2 3pts – 7/9 FT –  17 rebounds – 4 assists – 1 block
Career Moments :