Name: Savvas-Alexandros Manousos
Nationality: Greek (Bosman A)
Height: 2.07m
Position: Center
Manousos is one of the best big men in Greece the last decade.
He started his basketball journey from PAOK Thessaloniki B.C.
Then, played in FYROM (Champion) ,Lithuania (LKL All Star Game participant), Cyprus  (Super Cup winner) & competed in EuroChallenge with AEL , Czech Republic  , Spain and France  .
Moreover, he dominated Greek A2 with 9 different teams , and established himself as one of the most dominant big men around.
• Record-Holder of the most Double-Double performances in a season with 15!
• Most Improved Player in Greece A2
• Leading Rebounder in Greece A2
• National Team of Greece U16
• National Team of Greece U20
Scouting Report: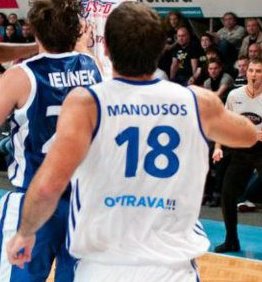 Physically Manousos has  great upper body strength combined with great set of soft hands. Does a great job of establishing himself in the post. Extremely dominant in the paint. Fundamentally he is at a high level, as his offensive repertoire is very rich(Hook shots, right & left- mid range shots- ball fakes- up & under moves- dunks – rolls at his defender's body and finishes with finesse from the base line- putback dunks- tips).Displays a rare combination of power and soft shooting touch. It is not uncommon for Manousos to overpower his man and then shoot the ball off the glass. Back to basket skills are quite advanced.  Owns a good assortment of moves as he can shoot the jump hook, turnaround jumper plus spin off his man for the soft finger roll. Quality rebounder in his area who does a solid job of boxing out opposing players. Hard player to double team as he keeps the ball high and away from guards and has the court vision to quickly kick the ball out to open teammates. Enjoys physical contact in the lane where he does an excellent job of drawing fouls from opposing defenders. Shows the ability to absorb contact and finish with relative ease. Does a good job of denying his man position in the post. Intelligent player with a great work ethic.
More Career Highlights:
Career Moments: